Keep learning with Podcasts
We love podcasts because they are so convenient, accessible and a great way to help us on our path to life long learning. One of the 5 ways to wellbeing. Find out more and see which current podcasts we recommend.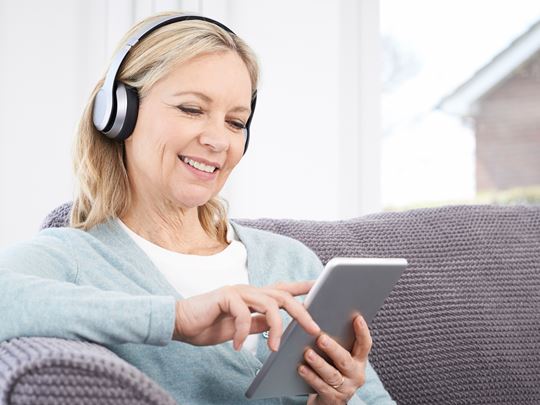 Podcasts
Often when we think of learning, especially as foster parents we imagine attending training or being head down in our e-learning system - Learnative.  This undoubtable has its place and is absolutely where to go to enhance your fostering knowledge and skills, but in our keep learning series we want to promote the idea of learning more generally.
So in this blog, we want to give a shout out to the humble podcast.  We love them because they are so convenient, accessible on any smart device or speaker you have access to on demand content whenever you want it.  Meaning you can listen whilst walking the dog, driving in the car or anywhere else that takes your fancy.
There are podcasts for everything: news, entertainment, storytelling and education allowing you to explore different interests and perhaps new areas of interest you haven't previously considered.
Here are just some of the podcasts we love and why:
Just one thing – with Michael Mosley.
In this short series different topics are covered to help us all stay feeling healthier for longer as we age and as the name suggests, with simply suggestions requiring only modest changes to our lifestyle.  It's a great overall fit to our Wellbeing series overall, so why not check it out on BBC Sounds.
You're dead to me – with Greg Jenner.
Think Horrible Histories for adults.  Billed as a comedy series that takes History seriously, each episode takes a different topic from history and investigates with a light hearted touch, giving you the chance to learn something new whilst having a few giggles along the way.  Available on BBC Sounds
Tech Tonic – from the FT.
If you'd like to feel more involved in the digital revolution, rather than being left behind by it, then this podcast is for you.  Cover topics on issues affecting social media, you can find out more about the influence social media has on us all, there is also a great episode looking at the mental health of our young people due to social media. Available on all podcast streaming platforms.
Blended – with Kate Ferdinand.
Discussing all aspects of blended families however they are blended.  Lots of great episode about fostering and adoption within the series, including an episode with our very own Caz in Yorkshire.
Scummy Mummies – with Ellie Gibson and Helen Thorn.
In the style of a comedy chat show, this podcast covers all aspects of parenting – it's ups and down and everything in between.  It's a great place to find parental advice, tips and ideas in a format that you wouldn't even realise you might just be learning along the way.  With lots of celebrity guests talking about their own family and parenting experiences it's a great insight into other parenting styles and how we are always learning as we go.
There are literally thousands of podcasts available at the touch of a button, whatever you are into, they'll be great series that's almost feels hand-picked for you.
Take your first step to becoming a foster parent today
If you're interested in becoming a foster parent and would like to learn more, then we'd love to hear from you.
Simply fill in the form below and one of our friendly team will be in touch.