'It takes a community to bring up a child, not just a single family'.
Mockingbird is the name given to a pioneering way of delivering foster care.
This method of foster care is a US fostering model that was originally developed in America and has proved so successful that it's beginning to spread elsewhere too – including the UK, where the Department of Education (DfE) and The Fostering Network have introduced pilot trials. Fostering People has joined the second phase of this pilot project and, with the support of the Fostering Network, we've introduced the UK version of Mockingbird in a small number of communities. If it works in the way we expect, we'll introduce it more widely.
The idea behind the Mockingbird Family Model is quite simple and fits in perfectly with our idea of close-knit communities which is what makes it so attractive to us.
Basically, it identifies between 6 and 10 families in a local area and brings these together in what's called a 'constellation'. At the centre of each constellation, based within the community, there's a 'hub home'; so it's a little like 'satellite' foster homes revolving around the centre. This 'hub home' is exactly what it says: a home that's lived in by a specially trained carer who's there to support other families in the constellation.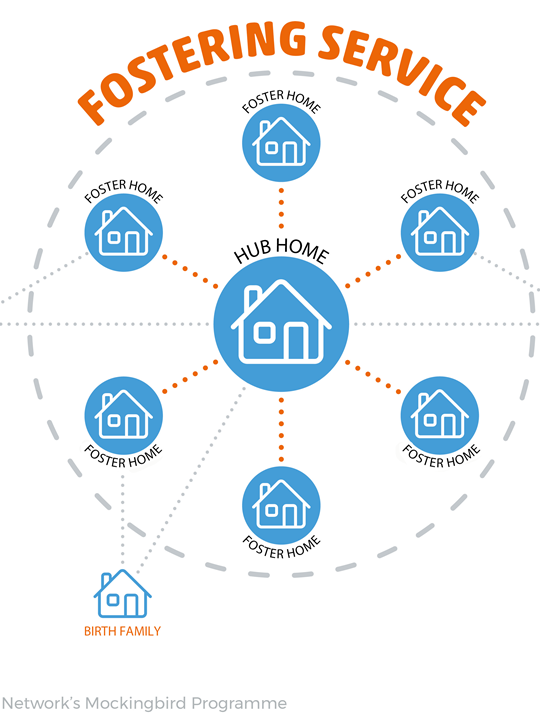 How does Mockingbird work?
The hub home is an important element in the Mockingbird model. It acts as a focus and takes on many responsibilities including organising get-togethers and activities, offering advice and mentoring, holding regular meetings and even offering emergency respite care to look after your child in case of an emergency. The advantages are that everyone's close and gets to know each other; providing a tight and supportive local network which looks out for each other. Problems get sorted faster, foster parents feel more confident, and children have access to even more opportunities to grow and develop in a positive environment. Needless to say, each constellation also has ongoing access to Fostering People's social workers and other specialist staff.
Mockingbird is what's known as an 'evidence-based' system, in that the results can be monitored and measured to see how well it's working. Evidence from the USA and other pilot projects – including our own so far – indicates that it delivers significant benefits. Adding another layer of local support, it helps make children feel safer and more secure, which improves their experiences while in foster care.
Foster parents also enjoy greater support and stronger relationships with social workers and other professionals, which adds up to a real sense of being valued. Everyone seems to be happier which is why we're watching the pilot trials closely!
Taking part in the Mockingbird pilot was an easy decision for Fostering People; its core principles of local support, events, activities and respite were very common to our own practise. The successful outcomes which Mockingbird has achieved confirmed to us that our fostering approach is right. By establishing our own Mockingbird constellation we have taken our approach one step further, I am delighted to see its success and the direct benefits it's had for children and families".
Take your first step to becoming a foster parent today
If you're interested in becoming a foster parent and would like to learn more, then we'd love to hear from you.
Simply fill in the form below and one of our friendly team will be in touch.
Can't find what you're looking for?
Suite D, The Point,
Welbeck Road, West Bridgford,
Nottingham, NG2 7QW