Fostering People provide you with excellent training both to help you prepare to foster as well as ongoing training to support your professional development.
Improving your awareness and ability to protect children in your care
Throughout your fostering career, you'll naturally gain experience and grow as a foster parent. This is all part of the development process. Another key part is training. Our foster carer training increases your understanding of therapeutic foster care and supports your day to day experiences. It also improves your awareness and ability to understand the needs of children and young people, as well as your ability to care for and protect them. That's why it's such a big part of what we do. It's an-ongoing process starting with an in-depth induction and continuing through an ever-expanding programme of short one or two-day courses. We're committed to building a community of skilled and experienced therapeutic foster parents and training is a big stepping-stone towards this.
Preparing to foster
Your foster care training will start as soon as you are in assessment, we have designed our very own 'Next Steps' programme that introduces you to topics such as attachment and therapeutic parenting, to help you to prepare for the fostering role. You will also attend a 2 to 3 day training course and, once approved, you will have a full induction programme designed to get you off to a great start. All of this gives you a real insight into the role and the needs of children in care, as well as a solid grounding in the principles of therapeutic fostering, our unique way of working.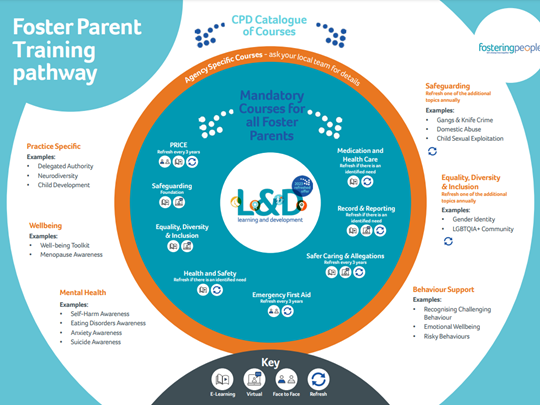 Ongoing professional development
Once you're up and running, you'll have access to an extensive programme of fostering courses. Some of these are obligatory as they cover legal and other important issues to keep you in touch with changes and developments. Others are voluntary and cover specialist subjects ranging from managing difficult behaviour and understanding self-harm to recognising the dangers of County Lines. We'll work with you to identify the right training, but many of our foster parents choose to attend as many courses as they can – not because they need to, but because they're interesting, useful and enjoyable.
We offer training as flexibly as we can, some of our training works best in a group so we will deliver these in community venues – other training can be offered online so you can complete it in the comfort of your own home. All of our programme meets the Training, Support and Development Standards (TSD) (England only) for foster care, so you can be sure it's effective.
Whatever you need, we're here to deliver it – and that means building new courses if it's relevant and useful.
98%
of foster parents said the training was very useful.
97%
of foster parents said the training was very relevant.
100%
would recommend our training to others.
99%
felt the course met their aims and objectives.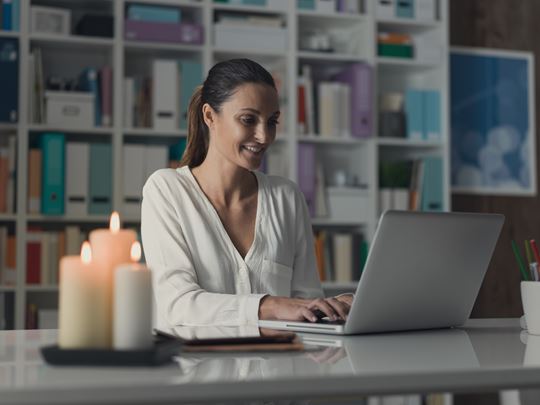 Online e-learning courses
In addition to our training programmes and workshops, we offer a huge range of online fostering courses, covering a number of topics to help our foster parents fit their training around family life.
Our online training is there to ensure that you not only have access to our outstanding 24/7 support, you'll always have access to training which is there to help you think about any circumstances you are facing, giving you ideas and fresh perspective when you need it.
If you work outside the home, our online training means you can learn at a time and a pace that works for you!
Take your first step to becoming a foster parent today
If you're interested in becoming a foster parent and would like to learn more, then we'd love to hear from you.
Simply fill in the form below and one of our friendly team will be in touch.
Download our Fostering Guide for beginners
To find out all you need to know about fostering, the application process and about fostering with Fostering People.
Can't find what you're looking for?
Suite D, The Point,
Welbeck Road, West Bridgford,
Nottingham, NG2 7QW