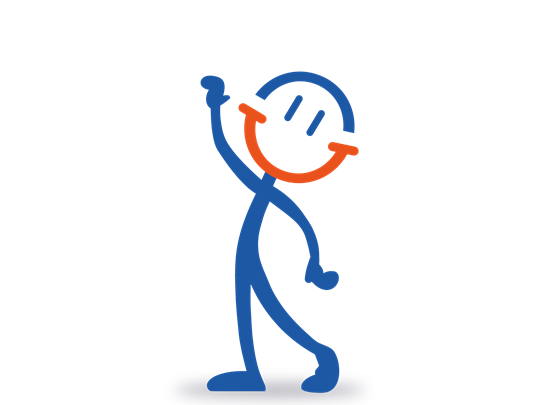 As a foster parent, you go above and beyond for the children in your care. So you deserve to feel valued and supported in your role.
You also have a wealth of skills and experience that we would welcome.
People transfer to Fostering People because we're renowned for our excellent support which is rated as Outstanding by Ofsted and rated as Very Good by the Care Inspectorate, which is probably why 94% of our foster parents would recommend us to a friend.
Reasons to transfer
There are many reasons people consider transferring to a different fostering provider.  Each is personal to them, but it can be an uncertain process trying to find the right provider that can confidently address your personal needs.
To help we have listed some of the common reasons foster carers consider transferring, so you can find out quickly if Fostering People is the right fostering provider for you.
At Fostering People we are renowned for our levels of support.  With Fostering People, as a minimum you'll have your own supervising social worker who will visit you at least once a month, and more if required with telephone contact in between.
You will also have direct access to your Supervising Social Worker so you can call them when you need to.  Additionally, you'll also be able to talk to your Team Manager and our Out of Hours service covers every single hour of the night, weekends and holiday periods, so you are never on your own.
Lack of children being placed
At Fostering People we work closely with local authorities, building relationships and through the quality of our service, have built our reputation so local authorities want to work with us.
"You are one of the best fostering agencies that I have worked with" - Local Authority Social Worker - East Midlands.
We are preferred providers to every local authority in all the regions we serve, as such we receive significantly more referrals for children than we have foster families available.
Our foster parents don't have to wait for long periods of time in between placements unless they wish to take a break or the foster family have specific matching considerations which they are aware can mean that they may have to wait longer for an ideal child coming to live with them.
The support to our children in care has been exceptional. Communication is very good. We have a very positive working relationship with them, inclusive of their placement team, supervising social workers and administration team - Local Authority Team Manager, Ofsted feedback.
We also have an hour of hours placement service which foster parents can elect to be part of, if they wish to care for children on an emergency basis.
Consistency of staff and social workers
At Fostering People we are extremely proud of the staff retention.  The average length of service of our team is almost 8 years and over 41% of our social workers and management team have been with us for over a decade.
There are staff changes from time to time, mainly as we recruit to grow our team to ensure our great quality support remains consistent.  However we are adept at minimising social work changes for our fostering families as we understand how important those relationships and consistency are.
Our fostering allowance is one of the best available.  Our Finance Calculator can help you see how much your annual fostering income could be.
Often experienced foster carers receive a generous fostering allowance, so if our standard allowance doesn't surpass or at least match what you currently receive, you can talk to us in full confidence.  We'd be happy to have a conversation with you to see if we can meet your expectations.
Feeling like 'just a number' and a lack of peer support
At Fostering People, we work at a local level.  Only having one office for England and another in Scotland has ensured that although we have grown since we started back in 2000, we have successfully maintained a family feel to our organisations.
Within Fostering People you will know all of our staff team that work in your region, what's more you'll know all of the foster parents too.
Through local community based forums, support groups, training sessions and various family events and activities you'll be able to meet up with foster families local to you.  Many of our foster parents meet up for coffee or activities during the holidays outside of those arranged and paid for by Fostering People.  Which is why our events and sessions have such a great 'family feel' to them.
We know how important this culture is to the success of Fostering People, which is why we operate the way we do and how we have maintained a small community feel over our long history and will continue to do so into the future.
Generous Allowances
Foster care is a great direction to take in your life. Our foster parents see it as a rewarding role that allows them to help young people develop and grow while earning a generous allowance.
Support
Providing excellent support to our foster parents is what Fostering People is all about.  Our support has an outstanding reputation and is highly accredited.
Training
Fostering People provide you with excellent training both to help you prepare to foster as well as ongoing training to support your ongoing development.
Rated 'Outstanding' by Ofsted in England since 2013 and 'Very Good' in Scotland, across all aspects of our work.
7 local teams across England & Scotland
Therapeutic Support
We use the PACE therapeutic model which all our foster parents and staff are trained in.  We also hold 'reflect' groups with an experienced PACE therapist to support our therapeutic approach.

We are 100% satisfied with the service provided by Fostering People. Their staff are professional and friendly and we have good relationships with them all.
Lisa and Martin - Foster Parents, previously fostered with a Local Authority
Changing foster care agencies is simple
Choosing to transfer is a big decision but it can be easier than you think. We'll work closely with other agencies and local authorities to ensure that you, your family and any children in your care will be fully supported during the move.
The transfer process is slightly different depending on whether you have a child placed with you or not and it's important to remember that you can only be approved by one agency at a time.
If you're thinking about making the move, it's a good idea to speak to one of our experts in transferring agencies. We can provide you with open, honest advice about the transfer process and give you all the information you need to make an informed choice.
Speak to our friendly team today
We understand that you might not be ready to tell your currently fostering provider that you are considering moving, so you can be confident that we'll deal with your enquiry in the strictest of confidence.
Frequently Asked Questions 
I'm already a foster carer, how do I transfer to Fostering People?
Transferring to us can be easier than you think. That's because we'll work with you and your current fostering agency or local authority to make your move as easy and stress-free as possible. It all starts when you call our fostering line on 0800 077 8159. Visit our transfer process page to find out more.
How long is the process for transferring?
We are able to fast track assessments for experienced foster carers, we aim to complete this in 3 months.
Do I have to complete a new Form F assessment?
Yes, the Form F is not transferable and your current Form F belongs to the agency you currently foster for. However the Form F process can be quicker as you have been through it before and your past hasn't changed.  We will focus on your fostering experience to date since the completion of your last Form F Assessment.
Am I able to transfer with my current child in placement?
In order to transfer agencies with children in your care a protocol meeting will be held between ourselves, the local authority responsible for the children in your care and your current fostering agency to discuss this.  This will be arranged automatically once you have informed your current foster provider and your child's local authority about your intention to transfer.  We will talk you through this process in more detail if you decide to process to an initial visit.
Do I need to attend Skills to Foster training?
You are very welcome to attend our Skills to Foster training, and its a great way of getting to know people, especially those that will be new to Fostering People at the similar time to yourself.  But we appreciate that attending pre-approval training isn't right for everyone with experience of fostering, so although we do encourage you to attend, it isn't mandatory.
You will need an induction session to Fostering People, so you understand how we operate and what we need from yourself.  This session can take place on the last day of the Skills to Foster training, so we will invite you to this session on its own if you do not wish to attend the full course.
We will treat your enquiry with the strictest of confidence
Complete this form and we'll call you back to answer any questions you might have about transferring or about what we can offer you as an experienced foster carer.
We are here to help
Use this form to book a time for a call back today with one of our experienced team members.  Alternatively you can call us right away on our dedicated number for experienced foster parents.
They can give you all the information you need to make an informed decision about whether Fostering People is the right agency for you.  You are guaranteed that you won't be pressured into making a decision today, we are just on hand to chat to you open and honestly about your options.
If the time is right for you to transfer to Fostering People you'll receive:
Excellent allowances, discount scheme and holiday payments
Therapeutic support from your own dedicated and experienced social worker
Events and activities
Being part of a small community team which is led by an extremely stable staff team.
Can't find what you're looking for?
Suite D, The Point,
Welbeck Road, West Bridgford,
Nottingham, NG2 7QW