Opening the door to your first foster child can be an exciting time but a daunting prospect.
A child you have never seen may turn up at your house at very short notice with just the clothes they are wearing.
However, rest assured that this has happened for many hundreds of Fostering People foster parents before you, and we will guide you through the preparation process for your first fostering placement.
You'll receive lots of advice during your training and it is important to remember that you can ask for help whenever you feel unsure.
What to expect
The first few weeks of any placement can be really tiring, both physically and emotionally, and you need to take care of yourself. You are now going to be busy outside of normal working hours so maybe think about re-adjusting your day. Take time for yourself when kids are at school and don't feel guilty about this.
Remember that you can't do this job on your own. Call on family, friends, other foster parents and, of course, your Supervising Social Worker. Fostering is an incredibly steep learning curve and you aren't expected to get everything right and solve all of a child's issues in the first month.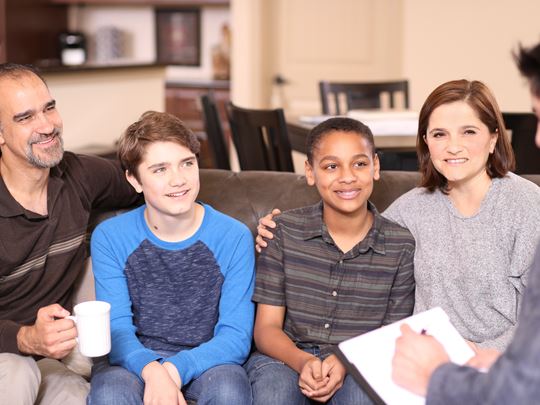 How to welcome a foster child
Try and act NORMAL
The best way to settle children in your home is to live your ordinary life when the child arrives. Eat your normal meals, do your usual daily activities and watch your favourite TV programmes. Take the kids to the supermarket, walk the dog, visit your friends and family. You will need to make some adjustments to your life but don't lose the sense of who you actually are when welcoming a foster child into your home.
Remember to have some FUN
Having some fun with your new foster children will probably get you further than anything else and you might find you enjoy it.
Spend some time to play and act silly. Sing and dance around the house. If you can get children to start to relax and feel safe coming into a strange new environment, then this is a great base to build on for the future.
Finance Calculator
To learn how much you could earn through fostering, we recommend giving us a call on 0800 077 8159 or use our Finance Calculator.
Take your first step to becoming a foster parent today
If you're interested in becoming a foster parent and would like to learn more, then we'd love to hear from you.
Simply fill in the form below and one of our friendly team will be in touch.
Can't find what you're looking for?
Suite D, The Point,
Welbeck Road, West Bridgford,
Nottingham, NG2 7QW