How to decorate a foster child's bedroom
If you just thinking about becoming a foster carer, are new to fostering or an experienced foster parents decorating and preparing a bedroom for a foster child who is new to your home is really important.
If you just thinking about becoming a foster carer, are new to fostering or an experienced foster parent decorating and preparing a bedroom for a foster child who is new to your home is really important.  We've explained why a space of their own is so important for foster children, and it's important that their space works for them and their age.
We've been talking to experienced foster carer and social workers to come up with some top tips on how to prepare a bedroom for a foster child.
Make a bedroom welcoming
Many of our carers leave little welcome gifts on a young person's bed, this can be new pyjamas, slippers, a toy or a book.  Team Manager Cath, tells us more.  'I remember placings two young girls, how the room was prepared was so lovely.  There were fairy lights, pyjamas, slippers and lots of nice  things all laid out on each bed including a cuddly toy, a magic wand, a book with other princessy stuff – it was just very twinkly and welcoming – I was as excited as the girls were!'
The children's excitement at seeing their room and having some new things just for them, helps children to feel welcome and wanted in a new home and helps boosts their self-esteem.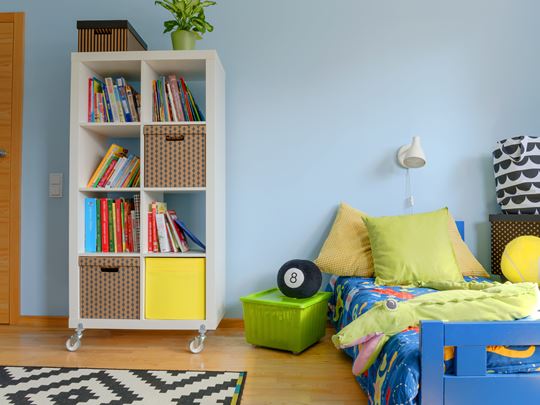 Keep it neutral
It can be tempting to go all out on the decoration of a child's room, after all, it's natural to want a child to feel happy in their space.  But foster parents often say that it's much better to keep a room neutral.  Resist the temptation to run out and buy pink paint if your first foster child is for a little girl, as your second foster child may be a teenage boy who won't thank you for the pink walls in his room at all and you'll soon run out of enthusiasm to run out and buy more paint.
Try and stay away from busy wallpaper too – by having neutral walls you are able to allow children to personalise their own space with pictures, family photos or posters which reflect their likes and interests – without worrying about the damage that blue-tac could be doing to your lovely wallpaper.
Using name stickers
Personalised name stickers are a great idea, they can be purchased cheaply online and come off the wall easily.  John tells us of his own experience.  "One of the things we did when our children moved in with us,  is buy some stickers of their names to put above their beds  - they absolutely loved them and got really excited the first time they saw their bedroom".
Just like having small gifts to welcome a child, if a child placed with you is still young, having their name above their bed will really help them to feel a part of your family and give them a feeling of belonging.
Space to get creative
We may have different views about Blackboard Paint.  You either think it's a great way of letting children get creative, or that drawing on walls shouldn't be encouraged.  But as foster parent, Louise told us in her blog preparing for Christmas, sometimes children will write on a wall because they need to let out their emotions.  Blackboard paint gives you the opportunity to allow to not only allow a child to draw without the need for paper, but also creates a safe place for young people to express themselves if they need too, to release anger or other negative emotions when dealing with their past experiences.  Because it's a blackboard it can easily be wiped away, allowing a young person so have more space or to remove any negative thoughts, but always talk to your young person before you get out the cloth.
Play tents and wigwams
Play tents or Wigwams can be a wonderful item for younger children as they provide a place for children to hide.  Not everyone has room for these in a bedroom, but they can be used in any room of the home.  With cushions and soft toys, they can be a refuse for children if the world becomes a little too much.  It's a big deal moving into a stranger's home, and a calm space that they can retreat to, can help a child to feel safe and secure.  It also enabled children to self-regulate too if they are becoming overwhelmed. What's more, even if a child you are caring for doesn't use a tent for therapeutic reasons, they are just fun
A worry monster
All foster children will have worries, most will have suffered early life trauma and many will feel sad at leaving their families behind, have worries about their next visit to see their families or have worries about your family, school or new friends.  A worry monster can help.  If a child writes down their worry, they can feed it to their monster, this can be a stuffed toy, a little character bin, a cookie jar. This helps children to process their thoughts, which can be really helpful.
A sensory space
Just like play tents a sensory space can help children in just the same way, but without being hidden away.  Use fairy lights, a small glitter ball and toys with different textures to create a sensory space which will help a small child whilst looking beautiful.
Keep it special
Our last tip is provided by our social worker Emma, "Put a shelf in a child's room that can display their special toys and achievements, which is out of other children's reach. This can give a child ownership of their belongings, and help them to feel that their things are important and will be kept safe".
We all have items that are special to us, those sentimental items that we just couldn't part with.  It's no different for foster children.  By providing a space where children can have their special items on display lets children know that you respect their special things.  Do ensure there is space for their special things to grow as they live with you, and to show off any achievements they gain whilst living with you too.
A shelf is a great idea if you have more than one child, as it can be placed high enough that other children can't reach the items on it, to help keep them special, but you can also use a dresser top or part of a bookcase.
If you have a spare room and would like to know more about how to become a foster parent, please give us a call on 0800 077 8159 today.