Latest News from Mockingbird
The latest News from Mockingbird is brought to us by Luisa, the Mockingbird Liaison Social Worker.
The latest News from Mockingbird is brought to us by Luisa, the Mockingbird Liaison Social Worker.
"I am proud to say it has been an exciting and busy first couple of months for the hub home, satellite families and for everyone getting used to functioning as a mockingbird constellation.
Within this time we have had our first monthly child participation event where our hub home carer arranged and invited all the satellite families to get together at a local park for a picnic and some pond dipping. We had a brilliant turn out of five families with ten children in attendance.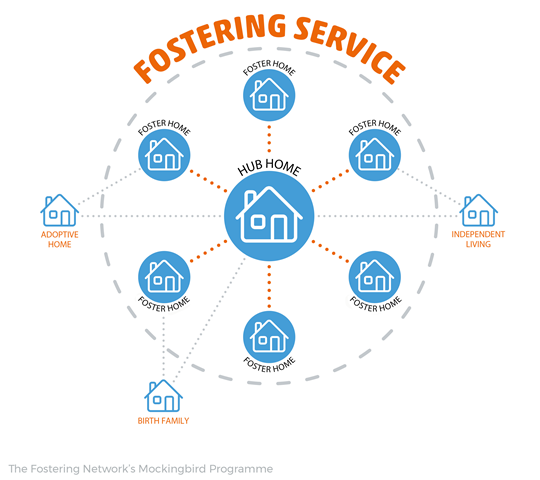 The weather did not play ball but this didn't spoil the pond dipping fun in wellies and rain coats. This was a great activity which just required some fishing nets and jam jars, and for a lot of our children this was a 'first' and they loved filling their jars up.  One satellite family shared with the hub home carer 'that she thought the pond dipping worked really well as she would not have felt comfortable to do such an activity with her new placements as she would have struggled to manage their behaviours alone'.
This is a great example of the constellation in action and an approach which we recently explored at the support group about 'shared parenting'.
Also this month we've had our first Mockingbird support group take place at the hub home, we shared a light lunch and an amazing eton mess cake which was made by the hub home carer.  As part of our support group we have a formal agenda and initially did a 'getting to know' one another activity about experiences/careers before becoming a foster carer.
What we learnt and shared was valuable in the shared parenting sense and being able to support one another because as a team we each bring our own expertise.  We also shared achievements for the month, future planning of activities, carer support, carer well-being and workshops.
It was decided by our constellation that a coffee morning at least once per month would be a good idea outside of the formal monthly support group. Our first coffee morning was held last week at the hub home and foster carers gathered straight after the school run. This gave opportunity for the hub home to check-in directly with the satellite families and catch up over coffee and crumpets.
Coming up soon we have a foster carer well-being workshop where our hub home carer will deliver yoga & mindfulness.  As a group it was recognised that often your needs as a foster carer, like parenting, often become  secondary and that actually within Mockingbird we would like to develop some time for the foster carers to focus on themselves, redevelop a sense of self and promotion of general well-being.
Mockingbird is all about normalising family experiences for children and as part of that we have had our first sleepovers for two siblings aged 9 and 12. During the sleepovers the children settled, became more regulated with their emotions and got on well with the young people already residing within the hub home.  Following this all families have been provided with a 'behaviour management plan' to work alongside safer caring policies so that this further reinforces our shared parenting approach and better equipping the hub home carer when offering sleepovers to children in the constellation.
Lastly, I am delighted to say that I have seen a united approach from the constellation all working together as one and supporting each other. I am excited to see how the Mockingbird project progresses".