Toni and Graham Fosters' story
Twenty years ago, in the year 2000, Toni and Graham embarked on a new journey within the fostering care sector that has led them to become Fostering People's longest fostering parents.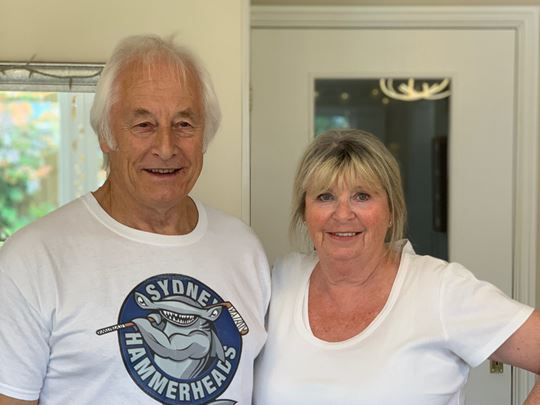 "The most rewarding part of fostering? It is always rewarding"
Foster parents Toni and her husband Graham share their fostering journey over the past twenty years.
Twenty years ago, in the year 2000, Toni and Graham embarked on a new journey within the fostering care sector that has led them to become one of Fostering People's longest serving fostering parents.
Toni first heard about fostering when she was working at Meals on Wheels where she met a woman who had told her she was caring for a young person, inspiring Toni's interest in becoming a foster parent.
Used to having a big family, Toni and Graham share two of their own children and three children from a previous marriage. With all their children now grown up and with families of their own, the couple are pleased to see that some have followed in their footsteps becoming foster parents just like them.
The couple originally began their fostering journey with the Local Authority where they met their social worker, Sarah Byatt, original founder and owner of Fostering People. "Once Sarah left the Local Authority, I always kept in contact. She informed us she was in the making of her own agency and in a nutshell that is how we got into working with Fostering People. It was very family orientated; it was such a lovely way to continue fostering".
Starting off fostering in Beestone Rylands, the couple soon had to move into a bigger house in Newark to continue fostering their five teenagers at the time.  Always fostering around 3-4 children, Toni and Graham have provided a supportive home to at least 100 children on both short and long-term placements. Some have gone off to university, one became a doctor, and one young person even starred in an award-winning film; the couple couldn't be prouder of their foster children.
Now as part of their family,  one of their children, who was previously fostered before Toni and Graham decided to take a Special Guardianship Order (SGO), still lives with the couple 11 years later. Also making up the family are two birth sisters, who have lived with the couple since 2014.
Remembering countless memories, Toni and Graham can't believe after all these years they are still fostering and are Fostering People's longest parents. A key piece of advice the couple shared is that, communication is key. For them, the dinner table is a key focal point of their conversations and bonding. Every night that is their time as a family to turn off the phones and to ask how their day has been including the good and the bad.
Laughter is the best medicine. For the past six years Toni and Graham have shared and provided a loving home. Along their journey, they have found how board games are a great way to get the family together. "The girls get really excited. It's a no phone night, so we get the popcorn ready on the table and get all the games out and just have a proper laugh".
While it is not all rainbows and butterflies, the couple have experienced more positive than negative times. Something the couple have learned along their journey is that, "Try not to take it personally. Children often have low self-esteem and we may not always understand but we do not criticise and always try and be positive".
"You must always listen to their point of view; while they aren't your biological children, they grow to become a part of your family and you learn to be a part of theirs."
As the festive season is on the horizon, Toni and Graham shared their tips and experience on fostering around this time.
Having experienced a foster child being placed in their care on the 23rd December, Toni recalls how the foster child came with nothing. Toni states how important it is to be patient and help make this time magical as many of the children have never experienced a Christmas before, including their three girls they look after now.
Family traditions are a great way to incorporate new family members and to make them feel welcomed. Toni said: "Our girls had never experienced a Christmas before, so we introduced them to our family traditions including our special way of setting up the Christmas table, going to Church on Christmas Eve, watching films, setting the food out for Santa and reindeers and even putting the elf on the shelf".
With this Christmas no doubt going to be a new experience for everyone, let alone foster parents this year, Toni and Graham are confident they will make it work.
Toni and Graham often think about retirement, however, admit with confidence their house wouldn't be a home without their fostering children.
After all these years, Toni said, "We try and break the cycle. I am hopeful as all the kids I have fostered that I am in contact with, none are in care nor are their own children. I know we can't save everyone but what I can do is make a big enough impact on their life so the cycle of being in care ends".
"It is always rewarding. We have a lot of good, sad and funny experiences, but I wouldn't change it for the world."
If you have a spare room and would like to know more about short term fostering or how to become a foster parent, please give us a call on 0800 077 8159 today.