Finding your purpose through fostering
Transform your empty nest into a fulfilling fostering journey. Make a life-changing impact on a child's life.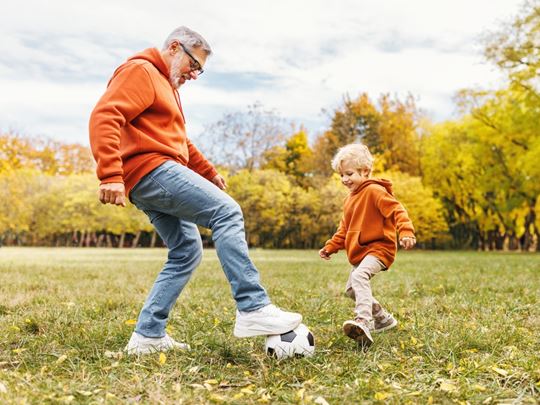 When it's time for your children to fly the nest, it can be hard for many parents.
You've dedicated your years as a parent to caring for and raising your children. Suddenly, they move out, and your home and your life can feel very different.
So, what do you do when your kids leave home? How can empty nesters find a purpose when you still have so much love to give? We understand this can be a challenging and emotional time, but luckily, there are a plethora of options and opportunities just waiting for you.
Fostering is one of the most fulfilling ideas for empty nesters. It's a career that can bring a new sense of purpose to your life, as well as make a life-changing difference to a child in need.
What is empty nest syndrome?
Becoming an empty nester refers to parents or caregivers who are suddenly living alone for the first time since having children.
Maybe your children have left to go to university, or maybe they've started working and have been able to rent or buy a home of their own. Whatever the reason, becoming an empty nester can come as a shock. For years you've dedicated your life to raising your children. Giving them your love, care, and time. You've spent your years driving them to school, making their meals, doing their washing, and enjoying conversations around the dinner table.
It's no wonder then that when your children fly the nest, you feel a sudden loss in your life, with your child no longer being under your roof and your direct guidance and supervision.
Some empty nesters enjoy reclaiming their homes when their children move out. However, for many, the adjustment can be hard to take. The noise, energy, and enjoyment of having their children home filled them with purpose. And once the house is empty, that feeling of being needed suddenly disappears, and with it, comes the symptoms of empty nest syndrome; grief, sadness, and other complex emotions.
What to do when your kids leave home
If you are an empty nester, you might be wondering what to do when your kids leave home, or how can empty nesters find purpose once again.
The good news is there are so many ways you can find purpose as an empty nester. There might be something you've always wanted to do but you simply haven't had the time to do it. Whether it's taking up a new sport, going on trips abroad, learning a new skill, spending more time with your partner and friends, or anything else that interests you, there are plenty of ways you can find a new sense of purpose.
Many empty nesters also find a new sense of purpose by volunteering their spare time for charities. From volunteering at animal shelters and charity shops to helping at homeless shelters and care homes, giving your time to your community and those who need it can bring a wonderful sense of fulfillment.
How can empty nesters find purpose through fostering?
When your children leave home, it's perfectly normal to feel a mixture of emotions.
On the one hand, you should feel proud. You've worked so hard raising your children to be independent so they can look after themselves. You've taught them life skills and have given them unconditional love (yes, even through those challenging teenage years!)
On the other hand, once they've spread their wings, it can leave you feeling sad, lonely, and at a loss. You still have so much love to give, and without the kids at home, it can be hard to know how to channel it. Sure, this is a tricky transition, but you suddenly have time on your hands that you haven't had for years. This is a time when you can do something not just for yourself, but for others.
Something rewarding, exciting, and challenging. And this is where fostering can come in.
Fostering is an amazing way to fill your home, and your empty rooms, with the love, fun (and noise) of children once more, and give a child in care the home and family they deserve. Fostering also allows you to share your parenting experience that could benefit a vulnerable child both now and in the future.
Benefits of fostering for empty nesters
What bigger benefit could there be than helping to change lives? When you become a foster parent, you'll be doing work where you can use the skills you acquired through parenting to change a child in cares life for the better. You'll have the opportunity to encourage, support, and teach them essential life skills, paving the way for them to have a brighter and more positive future.
Here are some more incredible benefits that come with fostering when you're an empty nester:
You'll have the opportunity to create beautiful bonds with your foster child that can last a lifetime, as many foster children stay in touch with their carers long after they leave the home.
You'll be doing something vitally important that gives back to your community.
You'll have the chance to foster children from different walks of life, backgrounds, cultures, and situations, and provide them with a safe, loving, and secure home.
You'll learn fostering skills through comprehensive training. With our training, you'll learn how to care for your child and deal with different situations. It covers everything from psychology and behaviour to first aid and diversity and inclusion. This training will give you new skills that can help you develop knowledge, understanding, and confidence.
You'll enjoy earning a generous fostering allowance while working from home. Fostering is a career and you will always be rewarded for your hard work caring for your foster child.
You'll have lots of opportunities to make new friends and be a part of a thriving and supportive community. When you become a foster parent, you'll be invited to lots of local Fostering People events where you'll have the chance to meet with other fostering families. This can lead to making lifelong friends with people who truly understand your position, helping to build a support network all around you.
You'll also receive discounts and rewards, as well as benefit from tax relief.
Fostering could be your answer
Fostering a vulnerable child is one of the many ideas for empty nesters you can explore to feel a sense of fulfillment and purpose again. The role of a foster parent not only allows you to use your parenting skills to make a difference in a child's life, but you also earn a generous fee.
If you think fostering a child could be for you, and you have the time, compassion, space, and love to give, then we would love to hear from you. There are thousands of children desperate for a loving, safe home. Please get in touch today and we'll be happy to answer any questions you might have about foster care and if it's right for you.