8 questions to help you decide which foster agency to choose
To help you decide which fostering agency you should choose, we've broken down the eight most important questions you need to consider.
If you're considering becoming a foster parent, then you probably have a lot of questions.
And the most pressing one is likely to be which foster agency to choose.
We understand. There are a lot of considerations to make when thinking seriously about applying to foster. And finding the best agency that's right for you can help guide you through the fostering maze.
To help you decide which fostering agency you should choose, we've broken down the eight most important questions you need to consider. From going with a local authority or an independent agency to asking what training and support are on hand and everything in between.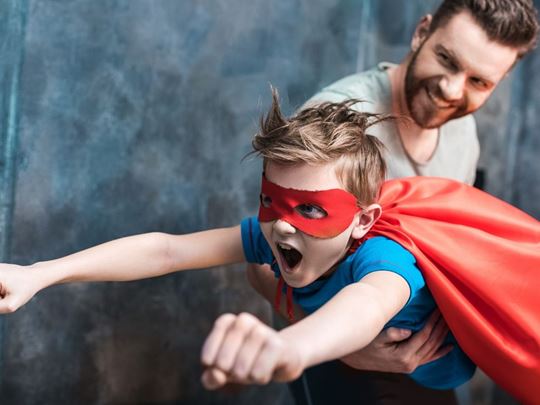 Which fostering agency should I choose?
Here are our top questions to explore to help you decide which foster agency to choose.
Does the agency have a good Ofsted rating?

An agency with an Ofsted Outstanding rating shows that the children under their care are exceeding what would be considered good progress in all areas of their lives. The hard work of an Outstanding agency is helping children thrive beyond the expected levels of progress. Fostering People has been rated Outstanding since 2013, and we're extremely proud of that achievement.

What support networks are available?

When you become a foster parent, it's important you receive a lot of support and care, as families work best when supported by a close-knit, caring team. A great agency's role is to first and foremost support the foster parents so that they can best support the child.

Unlike local authorities, whose large remit includes supporting birth families, child protection, and fostering, an independent agency focus purely on fostering. An IFA (or Independent Fostering Agency) devotes all its time to the foster families and children. As an IFA, we are fully equipped to offer the highest level of support, guidance, and training.

When choosing a fostering agency, ensure you ask about what support networks they have in place for foster parents.

Fully comprehensive training, whether in a group setting or one on one, is essential to ensure you keep up to date with fostering best practice, and any changes or developments. Ask the agency what kind of training and support they offer, not just at the beginning but if they offer ongoing training too. At Fostering People, we're passionate about giving foster parents the opportunity to develop more skills and improve fostering awareness. That's why we offer access to an extensive programme of training courses and workshops, including online e-learning courses to fit around your busy schedule.

You will develop naturally and gain experience as you grow as a foster parent, but having solid and ongoing training is a must and shows that the agency is committed both to you and the children in their care.

Is the agency close to where you live?

It makes a lot of sense to work with an agency based near to where you live. Or if they have a local office within an easy to reach distance.

This is because you will spend a fair amount of time attending different meetings and training sessions, so making sure the agency is close by can be very helpful and cut down on any lengthy travelling time.

Can I take breaks from fostering?

You'll want to make sure that your chosen agency offers a healthy level of respite care as a benefit. This is where your foster child is looked after by another family within the agency, giving you a well-deserved break from fostering.

Respite care normally ranges from a few days to a couple of weeks. This will give you the chance to relax and come back fully recharged to continue taking excellent care of your child. At Fostering People, we give all of our foster families up to 14 nights of respite foster care a year, and also provide fun days out and activities to ensure you're making special memories together.

What type of fostering does the agency cater for?

When deciding which foster agency to choose, you need to have a clear idea of the type of fostering you will be comfortable doing.

Most agencies cater to a wide variety of fostering situations. These can include:

Short-term fostering: a temporary style of fostering while long-term arrangements are decided.
Long-term fostering: looking after a child or young person on a permanent basis until they can live independently.
Respite fostering: a very short-term type of fostering giving other foster families or birth families a break.
Emergency fostering: fostering children who are at immediate risk. This can happen with just a few hours' notice.
Disability fostering: fostering a child or young person with a disability or health needs.
Parent and child fostering: when a parent and child are placed together.
Sibling fostering: when siblings are placed in a foster home together
Fostering teenagers: caring for teenagers during a crucial stage in their lives.
Step down fostering: helping children transition from living in institutional settings to a family home.
Sanctuary seeking fostering: fostering a young asylum seeker who has been separated from their family and is otherwise alone (or with siblings).
Does the agency have a strong relationship to the local authority?
This is an important question to ask as it can determine the types of placements you might be offered. A good Ofsted rating will reflect feedback from the authorities.
Don't be afraid to ask the agency about the different placements offered and what their Ofsted rating is.
You might want to work with an agency that is committed to the community you are both in, as they will have shared experiences, knowledge of the area and a commitment to work with you and the children to achieve the very best outcomes.
What are the fostering allowances?
Foster parents are self-employed, so understanding how fees are determined and what you are likely to be paid is an essential question to ask when deciding which foster agency to choose.
In most cases, IFAs will be able to tell you what the average weekly pay is per child, but do remember that the fees vary based on location, the child's age and the type of care the child needs. You can also ask what else is provided to support the financial cost of fostering a child. This normally varies from agency to agency but might include travel costs, days out and gift allowances, etc.
A great foster agency recognises the crucial work foster parents do, and rewards them with generous fostering payments. Find out more about our allowances at Fostering People, and how we ensure our foster families are given everything they need to provide exceptional care to a child.
Are any perks or rewards offered?
Of course, the biggest reward is making a truly incredible difference in a child's life, and the invaluable skills you'll learn by becoming a carer along the way. However, enquire about whether there are more perks and rewards alongside the fostering allowances.
For example, at Fostering People, we always have a busy lineup of local activities for all the family to get involved in, such as day trips and picnics. All of our foster parents also get a membership to Foster Talk, an independent organisation that offers impartial advice, as well as other benefits such as insurance and discounts at all your favourite high street stores.
How to switch foster care agencies
Sometimes, the first agency you work with might not work out. And that's OK. If you are already registered with an agency, but it hasn't been a great fit, then understanding how to switch foster care agencies is a must.
Contrary to what you might think, transferring agencies is actually very straightforward.
The first thing to do is get in touch. That way we'll be able to give you all the information you need to help you decide if we're the right agency for you.
If it's a right fit, you'll need to contact your current agency or local authority to let them know you plan to move on – don't worry, this isn't a formal resignation.
Your new social worker will be appointed and they'll conduct your assessment, looking at everything you've accomplished in your fostering career.
You'll be invited to a preparatory training course where you can meet the team and other Fostering People foster parents.
Your assessment will be reviewed by an independent panel, whose recommendation is given to our agency decision maker (ADM). It's at this point where you'll formally resign from your current agency.
Your new contract with Fostering People will start when your old one ends.
If you want to learn more about how to become a foster parent, download our Complete Guide to the Fostering Process, or just get in touch. One of our knowledgeable and friendly fostering advisors will be happy to discuss any questions you have.